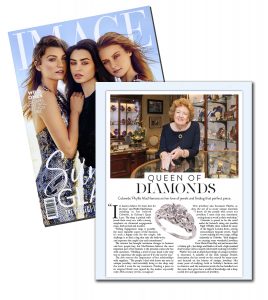 "Its' hard to believe I have been here for 46 years" says Phyllis Mac Namara standing in her beloved Cobwebs, in Quay Lane Galway. The shop is packed with jewellery from every era, with a strong emphasis on diamond engagement rings both period and modern.
"Selling engagement rings is possibly the most enjoyable aspect of the business; it is such a happy time for the couple. My challenge is to find a ring that suits the bride to be, and expresses their joy and commitment."
The internet has brought enormous changes to business and how people buy, Cobwebs is embracing those changes, but Phyllis believes that the most important part of her business is the personal contact she has with her customers.  "Holding the jewel in your hand is the only way to experience the magic and see if this is the one for you."
Phyllis stresses the importance of her relationships with her suppliers. "The people with whom I deal know my taste in antique jewellery and inevitably bring to the shop only the jewels that I want for my customers."
"All jewellery interests me, My first love is for antique jewellery, finding a piece in its original fitted case signed by the maker, especially early 20th century jewels is magical."
New jewellery in all its guises also fascinates her as does the use of so many materials never before used in jewellery.
"I can honestly say I know all the people who create our jewellery , I meet each one, sometimes see them at work in their workshop get to know them and form good working and creative relationships. "
Cobwebs is very proud to be the retail outlet for Irelands' rising star jeweller, Nigel O Reilly. He has worked for many of the biggest London firms setting some extraordinary bespoke jewels. Nigel is now making his own range selling exclusively in Cobwebs.
"Irish designers are creating some wonderful jewellery, I love Maria Dorai Raj, not just because she is a Galway girl, her design and finish is of such a high standard. Similarly with Seamus Gill a superb silversmith working in Dublin."
Phyllis love and knowledge of antique jewellery is well known. Her many years studying antique jewellery both at Sotheby's Institute and in America together with the numerous jewels she has handled over the years has given her a life time of experience of jewels. She says she is very hard to sell to as she demands perfection in each piece. A member of the Irish Antique Dealers Association she has served on the council for many years and lectured on the history of antique jewellery.